Oh, Johnny! Oh, Johnny! How You Can Love
Will Deacon Tom Coburn testify?
Roll Call
Sen. Tom Coburn (R-Okla.) on Thursday said he would not testify in court or before the Ethics Committee about any advice he gave Sen. John Ensign (R-Nev.) on how to handle his affair with a former staffer, citing constitutional protections for communications during religious counseling, as well as the patient confidentiality privilege.
"I was counseling him as a physician and as an ordained deacon. … That is privileged communication that I will never reveal to anybody. Not to the Ethics Committee, not to a court of law, not to anybody," Coburn said.
Read more
Hey Tom why settle for being a deacon when you can become an ordained minister? Just click here Tom.
Did little Ricky Santorum tip off Sen. John Ensign?
Politico
Doug Hampton husband of Cindy Hampton, Sen. John Ensign's (R-Nev.) mistress, claims that former GOP Sen. Rick Santorum (Pa.) may have tipped off his ex-colleague that the Hamptons were going public with the story over the adulterous relationship.
In an interview with Jon Ralston, a Las Vegas Sun columnist, Doug Hampton suggested that Santorum told Ensign that the Hamptons
were going to reveal the affair and then Ensign held his own Las Vegas press conference in a bid to control the political damage from the revelation.
"One of the correspondents that is part of Fox News is Rick Santorum," Hampton told Ralston in an interview. "I sent a note to Rick. I begged Rick to call me, to talk to me before, and he didn't. Obviously, in my opinion, I could be wrong, but that would be what I supposed happen. And if I'm wrong, Rick, forgive, but it appears to me how it happened."
Read more.
Now Ricky wouldn't do that would he?
OK there is there some kind of payoff here?
Politico
Sen. John Ensign's parents shelled out big bucks to pay off their son's mistress, the latest twist in an unfolding scandal that has upended the political career of the one-time rising GOP star.
The scandal has also touched Sen. Tom Coburn (R-Okla.), another prominent conservative, who revealed that he had confronted Ensign about the affair and urged him to end it, but says he will refuse to divulge any conversations with Ensign — even under inquiry from ethics investigators.
On Thursday, Ensign's attorney said that the senator's parents gave Doug Hampton, Cynthia Hampton and their two children gifts worth $96,000 in the form of a check. The attorney, Paul Coggins, said that each gift was limited to $12,000 and "complied with tax rules governing gifts."
Read more
Wow that's a lot of money!
What does Doug Hampton husband of Cindy Hampton think about all of this?
Las Vegas Sun
Doug Hampton spoke publicly for the first time Wednesday about the affair his wife had with Sen. John Ensign, alleging that the Nevada Republican engaged in a lengthy and calculated series of deceptions despite repeated attempts to get him to stop.
Hampton's comments, his first since Ensign publicly disclosed the affair last month, came during a two-part interview with Sun columnist Jon Ralston on "Face to Face With Jon Ralston." The first part began airing Wednesday and concludes today. Broadcasts of part two are at 5:30, 6:30 and 8 p.m. today on Cox Cable channel 19.
Read more and see video interviews
Oh, Johnny! Oh, Johnny! How You Can Love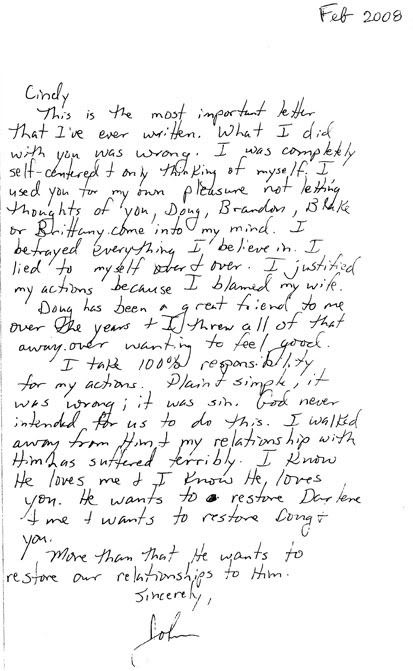 Comments
comments